Website Updates Every Business Should Have During the Coronavirus Outbreak
As the spread of the coronavirus affects nearly all of us, businesses big and small are being forced to make major decisions on the fly. As you're making decisions and changing operating procedures, you should be disseminating this information to your customers, employees, suppliers and other individuals.
One thing that will hopefully remain unaffected in this crazy world of change is internet access. While businesses are seeing revenues slow, we've seen website traffic spike in the last few days and weeks as consumers look for updates on how they are expected to interact with businesses – from restaurants, to grocery stores, to schools – in new ways.
If you have a website and are wondering how you can communicate your decisions and changes with the community, we've got a couple of ideas to get you started.
Create a Pop-up
Pop-ups, while often used to grow newsletter subscribership and limited time offers, can be an effective way to grab your viewer's attention. They are convenient because they don't change or alter your existing pages in any way, and they can be done relatively quickly. Similarly, when the dust begins to settle and things normalize, it can be removed just as fast. In as little as ten minutes, you can put something up as simple as this:

Tips for pop-ups
Make your pop-up appear on every relevant page. Not every visitor will enter in through the homepage, so ensure your pop-up shows on each page that makes sense.
Keep it brief, and make your intentions clear. Consumers are used to closing pop-ups before they fully load. If you are providing key updates about your business, make it immediately clear. Visitors to the site can't typically bring back the pop-up once it has been close.
Ensure the information you are providing is up to date. What is true today may no longer be true tomorrow. Consumers in general understand this, but rely on you to keep them updated.
Use a Banner
A simple banner on either the homepage or that is accessible from every page overcomes most of the pitfalls of a pop-up. Banners are easily accessible and more subtle than a pop-up. One of our clients employed a simple but clearly visible banner across the top of their navigation, with a link to a new page labeled "Our Response Regarding COVID-19".

While you could include more information than that in a banner, this implementation allows a user to navigate to a page that can be easily shared with others. It also works as a hub of information as updates become available. All coronavirus updates can live on this one page, and old information can rapidly be removed.
Another business implemented a highly visible banner on their homepage that quickly catches the reader's attention. It states right away that their services will be impacted by the spread of COVID-19.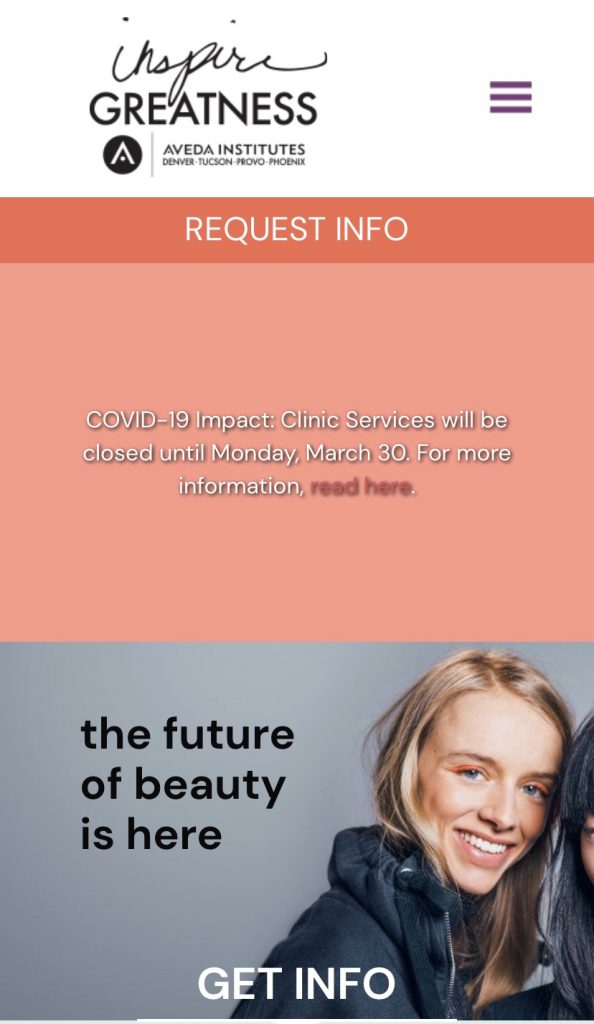 Post Updates on Your Blog
Sometimes creating a page from scratch feels overwhelming. Since COVID-19 updates won't need to look as nice as your product or program pages, you may find it easier to use the established structure of a blog post.
Creating a blog post and linking to it in the banner would be a different way to create a new page and solve the same problem. Your blog is also where many visitors instinctively look for new information. Additional blog posts addressing questions and concerns or advertising some of the ways your school will continue teaching during these times would also be advised.
Tips for Blog Updates
Give each update a clear title with a date. Any individual who comes across the article, whether on your site or a shared post on social media, should be able to clearly tell what you are going to communicate.
Remove irrelevant or outdated information. One of the fastest ways to spread confusion is by having multiple updates out that contradict one another. Keep your updates simple and confined to a single page and let new updates push down the older updates. This is helpful as the old information will give readers a timeline of how you got to where you are and what you are doing today.
Use social media to set up your company for success during the COVID-19 outbreak. It can be a great platform to get eyeballs on your brand and your updates that you've posted on your blog.
Update Your Calls To Action
With most brick-and-mortar businesses complying with recommendations, mandates, or laws to shut down, many of the things they were asking their customers to do previously are moot.
If you visited a site with a pop-up alerting guests of your business's temporary closure, you would likely think that booking an appointment would be unproductive and therefore not fill out the form. It is scenarios like this that cause businesses to lose leads, which will make it difficult to bounce back as we inevitably come out of this crisis.
To continue with this example, our recommendation would be to update the calls to action (CTAs) to something like, "Schedule Your Virtual Tour" or "Schedule Your Virtual Meeting". You could choose to showcase what happens during a virtual tour or appointment,  explain the benefit, and provide the prospective client an alternative, such as a virtual tour or conference call, to answer any questions.
This can be applied to any business. A restaurant may update their CTA from "Reserve a Table" to "Place a Pickup Order". There are two things you want to make clear:
Your potential customer knows what to do to safely interact with your business.
They get a clear signal that you are still operational and providing your best service during this outbreak.
Make It Easy To Stay In Touch
From a consumer standpoint, few things are more frustrating than trying to get in touch with an unresponsive business. Avoid leaving a bad taste behind by making sure that your phone numbers on the site are still reachable (or changed to numbers that are), and that form submissions are being answered. If no one will be available or you are actually closed, make sure you make it clear on your site. You will also want to make it clear on your Google My Business listing.
> Find out how to update your Google My Business listing and more with our COVID-19 and SEO blog!
Another way to help you stay in touch with visitors on your website is through the use of a chat feature. Most chat features offer the option to add a button to your website that individuals can click to start a conversation with you or another employee. While quick responses are encouraged, this allows you to respond at your convenience like a text message. You can quickly answer questions and concerns as they arise. While a chat function is a recommendation we make to all businesses who can (where it makes sense), we do recognize that it may come as an additional expense both financially and on time spent. While marketing is an expense businesses can't afford not to have, we know a chat feature on your site is an investment not everyone can make right now.
Are You Keeping Your Customers Informed?
There are a lot of questions business owners should be asking right now, and this is one of them. We hope the answer is yes. We've created this checklist to recap some of the things that you should be doing to make sure that as your business changes, your potential customers come with you.
Do you have:
A pop-up informing customers of the latest changes to your business?
A resource such as a blog post or new page that documents what your business is doing during the pandemic?
A banner that directs people to that page?
Your CTAs updated across your site to something that makes sense? 
A chat feature on your website (optionally)? 
With everything going on, you may feel that you don't have time to tackle these action items. Heck, you might not have anyone on your team capable of handling them. And that's okay. If you have a WordPress site and can provide us with what you want your resources to say, we can help get these action items taken care of for you. Feel free to contact us here and let us know you'd like to get some or all of these up on your website, and we'll be in touch. Until then, stay healthy!